McCambridge banks on communities
2013 Women of Distinction - Banking & Finance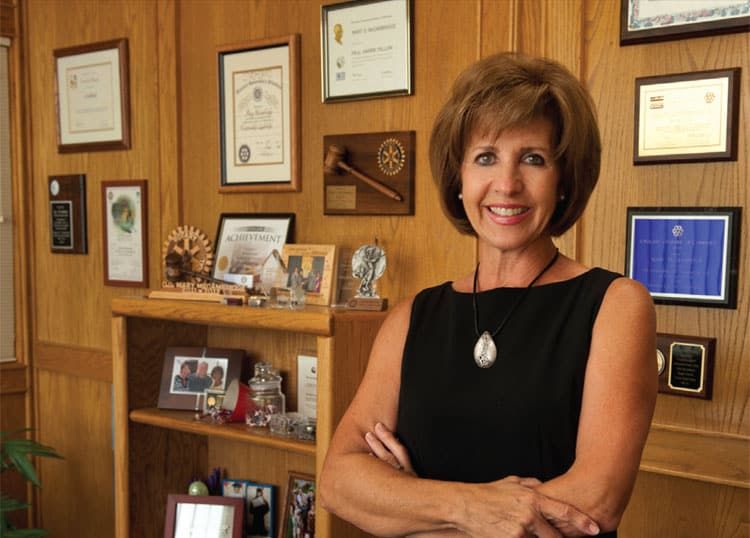 Mary McCambridge's dedication to community started in the mid-1970s when, as a teenager, she was a camp counselor at her church's summer youth camp in Illinois. It's been nonstop ever since in her work as senior vice president of community relations for Loveland-based Home State Bank.
McCambridge, 60, is being honored as a 2013 Woman of Distinction for her community outreach work in the banking industry. She sits on the board of directors for three different organizations—Project Self Sufficiency, Loveland Chamber of Commerce and High Plains Environmental Center. She is also the Literacy Chair for Rotary District 5440, volunteers for the United Way's Campaign Cabinet, served as 2013's Rotary International President's Representative in Oklahoma City and is a member of the Good Samaritans Advisory Board.
And that's just this year.
Since moving to Northern Colorado in 1982, McCambridge has been volunteering for organizations as diverse as Habitat for Humanity, the McKee Foundation, Thompson School District, the Alzheimer's Association, Loveland High Plains Art Council and First Presbyterian Church in Fort Collins. She has been a Rotarian since 1996 and in 2007 did a tour of duty as a RYLA Senior Camp Counselor. RYLA (Rotary Youth Leadership Awards) is Rotary's leadership training program for young people, which sends middle school students from Colorado and Wyoming to a week-long camp each summer.
When asked what inspired her to become such an active and engaged member of her communities (McCambridge considers Fort Collins, where she lives, and Loveland, where she works, to be her communities), McCambridge recalled the premature birth of her daughter, Molly and watching how United Way helped mothers less fortunate than herself.
"I saw the devastation around me (at the hospital) of other mom's with early babies," she said. "I had good insurance. I had a good job. I had a supportive family structure. But I saw others that didn't have much and I saw United Way come in and help these families. That probably is what sealed the deal for me."
That experience and United Way became the backbone of McCambridge's philanthropic commitment. She started volunteering with United Way because it reached out to so many other groups. Soon she was "discovered" by other nonprofits and solicited to bring her energy and talents to help them fulfill their missions. With so many requests, she's had to make hard choices about which organizations she could support.
Rotary is high on the list for McCambridge and her husband, Jim, a CSU professor. As a Rotarian, she's had the opportunity to make an investment in global literacy initiatives. Locally, Rotary groups gift a dictionary to every single third-grade student in Northern Colorado. Eaton Rotary hosts a bedtime reading program at the police station where Rotarians provide a snack for and read to youngsters who then go home and go to bed. Periodicals are donated to jails so that residents have something to read during their incarceration.
"Reaching out, helping people, not just in our communities, but all over the world," said McCambridge, "that is my real heart feed."