Robin Downing pioneer in veterinary medicine
2009 Women of Distinction - Health Care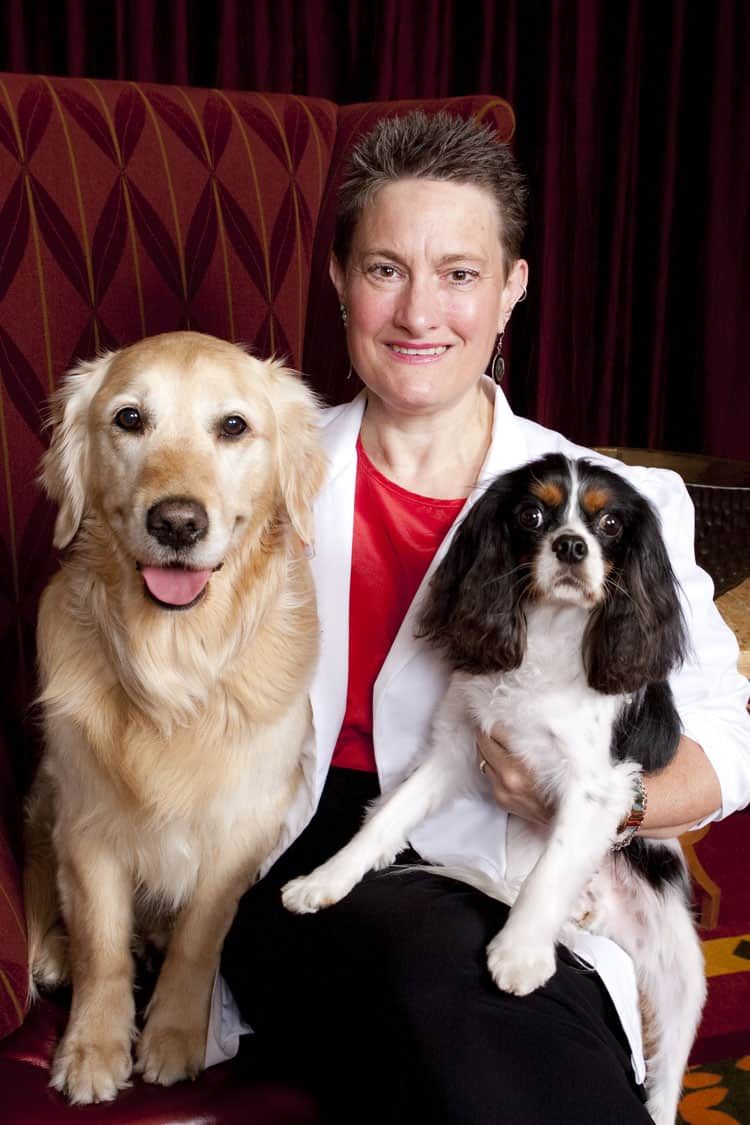 When you scan her extensive list of awards, honors and accomplishments, it's hard to imagine that Robin Downing, DVM, recipient of this year's Women of Influence Award for Health Care, could have ever been derailed from her dreams. Yet, her first application to veterinary school was rejected.
After earning her bachelor's degree in English at Loyola University in 1981, , Downing worked for a variety of veterinarians in the Chicago area and was inspired to pursue her doctorate by Bonnie Faust, DVM. Downing completed her graduate degree in Veterinary Science in 1984 and her Doctor of Veterinary Medicine in 1986 at the University of Illinois. Downing was part of the second veterinary school class at the University of Illinois to be 50 percent female.
When her first job offer fell through 23 years ago, she drew upon some gumption, creativity and courage and opened up a mobile companion-animal veterinary practice in Worland, Wyo., becoming the first woman veterinarian in a 100-mile radius.
"I was very fortunate never to have had anyone in a position of influence tell me I couldn't achieve something because of being a woman," Downing said. "I had several very strong female mentors during my undergraduate education, and they set the bar very high for my personal and professional achievement."
Downing is now a masterful mentor to 20 to 30 students of Colorado State University's veterinary program each year, including Justine, daughter of the late Dr. Faust.
"Dr. Downing is always eager to share her experiences, knowledge and skills with other veterinarians, their staff and our veterinary students,´ said Peter W. Hellyer, DVM, associate dean for CSU's Professional Veterinary Medical Program.
Downing is also a global leader for her groundbreaking work on animal pain management and is a co-founder of the International Veterinary Academy of Pain Management. She was exposed to the concept of animal pain management when she worked for a veterinarian certified in acupuncture. She was intrigued when she witnessed how a few needles could restore function and relieve pain.
She found almost no exposure to pain management in the veterinary school curriculum. It wasn't until Downing set up her own practice that she began to investigate pain management for animals herself. To expand her knowledge, she became open to conversations with human medical colleagues to see how their methods could be applied to animals.
Today, Downing is the medical director of the only accredited animal pain practice in the nation The Downing Center for Animal Pain Management, which she founded in 2006. She is also the medical director and senior veterinarian of The Windsor Veterinary Clinic, also accredited by the American Animal Hospital Association, an honor shared by only 15 percent of veterinary clinics in the nation.
"It seems that women have demonstrated their collective ability to pursue whatever work and profession they desire," Downing said. "The path to success in veterinary medicine is similar to the path to success in any other profession."
Focus on your passion. Set goals. Establish priorities. Make a plan for training. Seek out instructors and mentors, even in different industries. Make a commitment to lifelong learning and keep an open mind.
There's no doubt the menagerie that have been under Downing's protective and innovative care and the students that have benefited from her mentorship are thankful that she persevered against the odds two decades ago and continued to pursue her passion.