1st Choice the right choice for Darrell McAllister
1998 Bravo! Entrepreneur - Greeley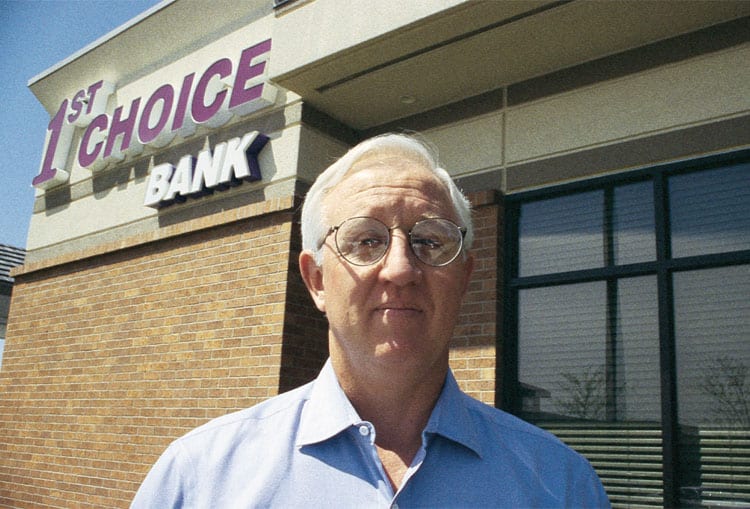 Entrepreneur started right bank at right time for great results
GREELEY – When Darrell McAllister dreamed about opening a new, independent, service-oriented bank in Greeley in the early 1990s, far more banks were folding than opening.
But with entrepreneurial spirit, a solid idea, hard work and good timing, 1st Choice Bank opened in a double-wide "modular office building" in a new shopping center on Greeley's west side on July 3, 1992, and began a meteoric rise. Today, 1st Choice Bank has seven locations and is the third-largest bank chartered in Northern Colorado.
The little bank that started with $1.7 million in capital and a commitment to "something as old and common as service" now has $22 million in capital and $315 million in assets, making it one of the largest independent banks in Colorado. With three locations in Greeley as of Nov. 1, two in Fort Collins and one each in Loveland and Windsor, 1st Choice has grown from seven employees to 125, but it still is dedicated to service.
"We have good employees who just take care of people," McAllister said. "Such a big key to our success is taking care of our customers."
As 1st Choice's president and CEO, McAllister was a natural for one of Northern Colorado's first "Bravo! Entrepreneur" awards, representing Greeley, an honor he calls a "humbling experience." "We're pretty proud of what we've done, but when somebody else recognizes it, it's a good feeling," he said.
A Greeley banker for 17 years, McAllister, 50, says the growth of 1st Choice has been "beyond our wildest dreams" and jokes "we couldn't have put this on paper and believed it." He attributes the success to filling a need for service not met by the big bank holding companies and a growing economy.
"We saw the big-bank merger mania and craziness creating a lot of discontent with customers, so we thought there was a real good opportunity," he said. "We opened with the idea that we'd be an alternative to the philosophies of those larger banks, and it's worked well. My biggest fear is that someday those big banks will get their act together and figure out how to offer good local service.
But 1st Choice also was the right bank at the right time to catch the economic upturn of the early 1990s, and it quickly recognized that the economies of Greeley, Fort Collins and Loveland were closely tied.
"If I could have picked the best time to open, it would have been at that point," McAllister said. "We've been on a good five-six-year economic run now, and that, coupled with continuing chaos in the banking merger area, has given us a lot of opportunities."
Not that starting a new bank was easy. It took McAllister a year to open his bank in Greeley's Westlake Village shopping center — time spent raising capital, fighting regulatory red tape and then raising additional capital after some of the original investors pulled out.
"The biggest headache was raising the capital," he said. "Initially, I raised the capital right away, but then it takes time to get government approval. The state didn't take too long, but the FDIC hadn't seen a new application for quite a while, and they almost forgot what to do. Investors started getting a little nervous and wondered what's going on, why is this taking so long? But we got down on our knees and begged a little bit, and we were able to pull it together."
Since then, 1st Choice's rapid growth has brought frequent and costly audits by bank regulators, and expansion has brought new headaches of navigating through complex local planning and zoning processes.
Despite its growth, 1st Choice remains a bank where customers and employees greet each other by first name in the open, airy lobby and where the sign on McAllister's door says simply: "Darrell, president."
"Part of the success is the growth, but the growth becomes part of the next problem of maintaining that quality service," he noted. "One of our real goals is to not let that slip away from us."
One way to do that is to make each location an autonomous local bank. In fact, 1st Choice never refers to its seven locations as "branches."
"We try to give our management in those different locations the authority and ability to deal with our customers," he said. "And that gets back to service. We don't have to reach to a policy manual to decide whether they can do a deal or not — yes, we have policy manuals, and yes, we try to operate under some kind of common denominator, but they have a lot of discretion in what they can do day in and day out."
1st Choice doesn't lag behind any of its big brothers when it comes to using modern technology, from toll-free numbers to Internet banking and a cash-management system for small and midsize businesses.
"But the difference is that we offer it as a supplement to service, not a substitute for service," McAllister said. "A lot of the big banks are trying to convince people that they have to use that. We recognize that some people want to, but a lot of people still want to come in and sit down and take care of their business at a bank, and so we're trying to be both."
McAllister's advice for tomorrow's entrepreneurs: Have fun, but be prepared to work hard, make sure you obtain all the talents needed to have a successful business, and don't expect instant rewards.
"If you're thinking of starting your own business, there's a lot of fun in it, but also a lot of work," he said. "When you're small and starting up, you have to be everything. Sometimes I'd be the janitor. The other thing they've got to understand is that it gets pretty thin and slim for a while, and you don't necessarily get a paycheck every month.
"But there's a lot of reward when it does work well," he added. "It's been fun seeing the success come, knowing there are 125 people with employment, and from my standpoint as a banker, watching somebody come in and helping them fulfill their dreams."
Looking ahead, McAllister sees 1st Choice continuing to grow in Weld and Larimer counties and maybe looking at new locations such as Estes Park, Fort Morgan or Sterling, where McAllister grew up.
"We see ourselves as a Northern Colorado bank, and so we're going to continue to focus on that and try to be a better and better Northern Colorado bank," he said. "We're the third-largest now, and we'd love to become the second or the first … all the time staying independent and being that local choice for people."